Home Delivery Service
for Landscape and Garden Supplies
ANL and Sherringhams Nursery provide a fast home delivery service for all of your landscaping and gardening needs.
For your assistance in determining the best and most cost effective delivery option, we have included some site access and truck capacity information in the 'Common Calculations & Home Delivery Information' fact sheet, located in the DIY Information Centre.
When significant volumes are required, the opportunity may exist to supply direct from our production facilities. Should you require it, we are able to offer transport savings through bulk direct delivery to you at your job site. Be sure to enquire regarding this service as considerable cost savings can be achieved for large bulk deliveries.
Handy Landscaping Calculations & Hints - Area / Volume
• There are 1000 litres in one cubic metre
• 1 cubic metre of product covers 10 square metres to a depth of 100mm
• 40x25 litre or 33x33 litre bags of product make 1 cubic metre
• 1 cubic metre of garden mix weighs approximately 1.2 tonne
• 1 cubic metre of mulch weighs approximately 300kg
• Volume is calculated by Length x Depth x Width
ANL Truck Capacity for Landscaping and Gardening product
4t Truck - Needs average 2.6m width, 2.8m height, approx. and carries 3m³ garden mix, 4m³ mulch, 4 tonne Gravel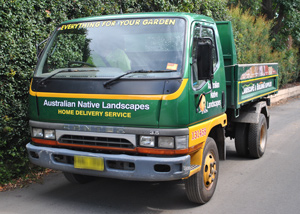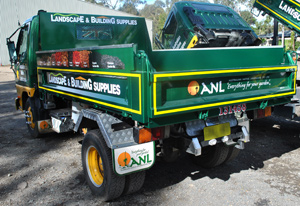 6t Truck - Needs average 3m width, 2.8m height, approx. 5-6m³ garden Mix, 10m³ mulch, 6 tonne gravel/topsoil/sands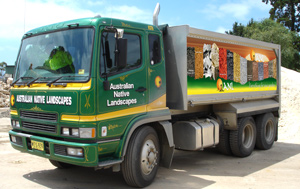 13t Truck - Needs average 3m width, 4m height, approx. 10-12m³ garden mix, 18-20m³ mulch, 13 tonne gravel